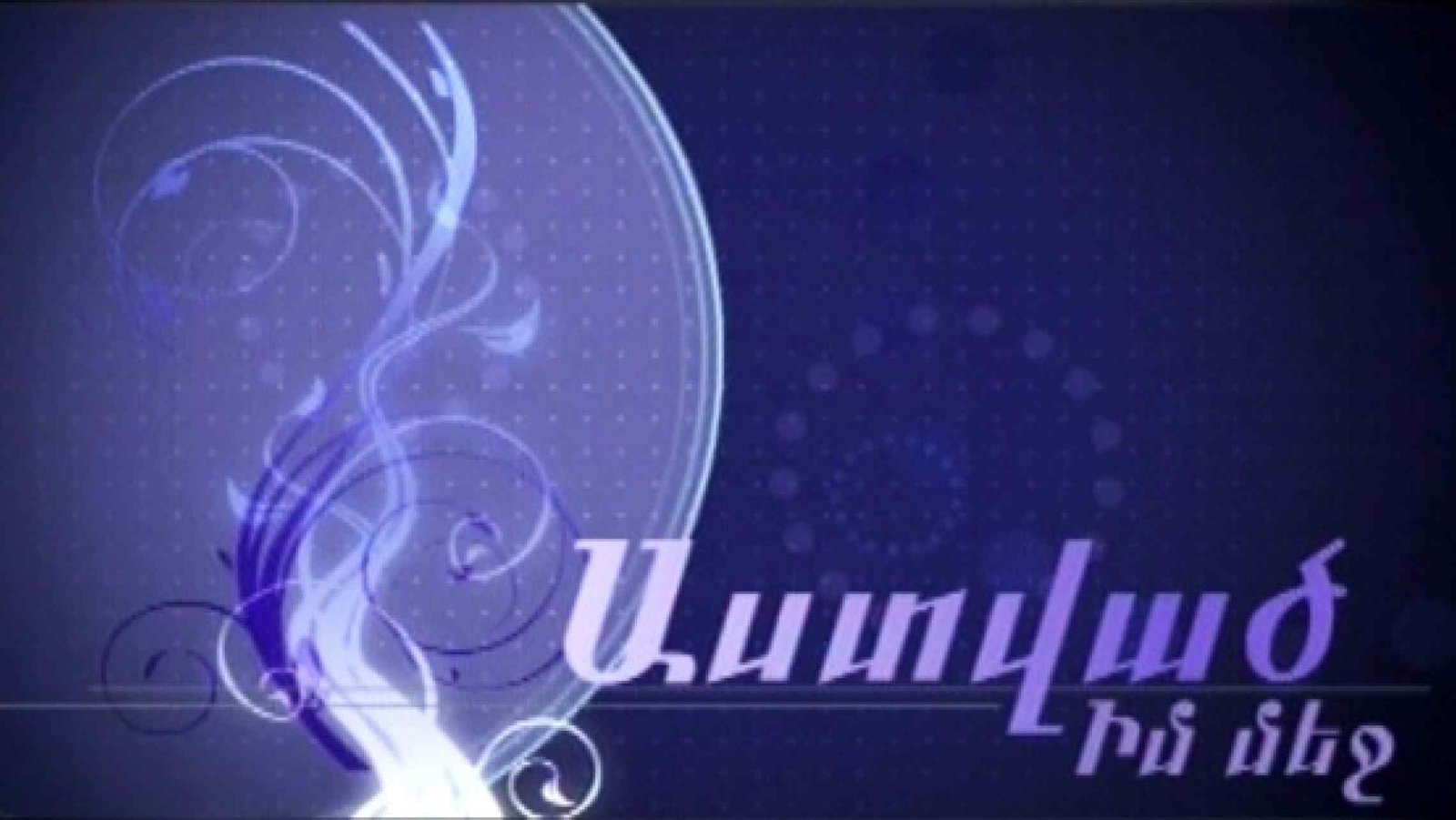 The life of a human being is a course of searching, finding and recognizing one's own self. So difficult and beautiful.
In the TV series "God in Me", well-known intellectuals, artists and priests reflect on their secrets referring to the Godly and the human, the eternal and happiness.
Frequency: Every Monday, at 21:50
Rerun: Tuesday, at 10:50



Tigran Hekekyan, well-known conductor, professor of Yerevan State Conservatory after Komitas, was baptized in 32, in Jerusalem. He got married in 43, and now is a father of four children. The Maestro tells about his unforgettable impressions, when he first took the Bible on his hand and came to know the spiritual music.




The life and profession of Sona Hovhannisyan, Artistic Director of Hover Chamber Choir, is one piece of painting, which she alone tries to make whole. ''I have no religious educational background, which means I was robbed of the world music, painting, history of art, which topics are wholly and entirely based on the spiritual heritage'', says the musician. "So much is missing in our lives because of that lack of education, but nonetheless, we should not get frustrated, but rather try to recover our losses and be content with the life with the joy of a founder".




Hovhannes Yeranyan, writer publicist, confesses that for many years he considered himself a believer and never made an effort to see another person as one of his like. He believes that anyone can change. He says that he personally has changed and he believes that other people can change too. He considers his 'craft' -- literature, as a service.
Many of his articles and reviews on literature, theatre and cinema were published both in Armenian, as well as in Diaspora media.
He is the author of four prose collections -- "Sole Foot-print" (1999), "Ceasefire" (2005), "Census" (2008) and "The Most Beautiful Hit" (2010).




Davit Muradyan, writer, film expert, spent his childhood in the outdoors of St. Zoravor Church as his grandfather, his mother's dad, was the last chimer of St. Katoghike Church. He still remembers the numerous questions he was asking on the roads of his childhood holding his mother's hand. Later, he tries to find the answers in the literature, music and painting, in the internal fight with false soviet values.
However, some questions are still left unanswered and he's looking for answers up to day, even while thinking about the title of the TV series ''God in Me''.




Davit Minasyan is known to many as the sculptor of nowadays' statutes "The Men"', "The Yard-Keeper", "The Musician", "Man of the World", located in Yerevan.For many, he is a man of theatre -set designer in 'Hamazgayin' State Theatre, lecturer of State Institute of Theatre and Cinema.
In our film Davit Minasyan is presented to us with his two complimentary professions. As he says, "one should always remember that he walks on the earth that has been walked by Beethoven, Hrant Matevosyan".And the huge responsibility for family and world, to him, is the key formula to find God in his self.




''The first sculptor was Him that created Adam, then Eve, there is such a close relation between the Creator and the sculptor'', - speculates Getik Baghdasaryan, sculptor. His works are distinguished for their huge sizes and cover wide geography -- the monument of Nerses Ashtaraketsi in Ashtarak city, the monument of Hamo Sahyan -- in the native city of the writer, Sisian. The inner world of the artist is similary wide and profound...




Aram Satyan is one of the modern famous composers, the author of a number of marvelous academic and pop musical pieces. As he himself notes, most of his songs are about love. He believes that every artist should thank God and make use of his own share of time reasonably.




It turns out, that Armine Hayrapetyan, author-performer, is also an archaeologist. Science is often contradictive, problematic. However, it never disturbed Armine to be a scientist. "Whenever I try to go towards the unknown, I delve into and excavate inside, because the answer to all questions is there, as for the exhortation 'Love each other', no other simpler and more vivid formula exists".




We met the artist Grigor Babakhanyan in the Art School he established, which is called ''Cross of Armenian Unity''. People of Etchmiadzin call this institution a House of Art, which is attended by dozens of children from Etchmiadzin and neighboring villages. ''Prayer is the language to talk to God, and if you want to have a dialogue with Him, you shouldn't turn to him frightfully'', says Grigir Babakhanyan. He considers himself a free person, and the source of freedom -- the faith.